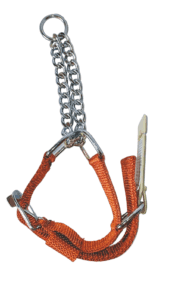 It doesn't provide any pressure while protecting the airway and neck sensitive areas. When you pull out the collar, the dog will stop immediately. A collar spreads pressure naturally. The choker collar should be able to slide over the dog's head. Fully welded links are certified, ultra strong links. High quality raw materials do not cause allergies in most dogs, and 100% quality control makes these metal collars for dogs. There is no damage or injury to the dog's neck while wearing this collar. There is no need to scream or shout at a dog or punish your pet. You only have to pull the training collar and the dog will stop immediately.
The Zealpets D-Cut Nylon Choker Collar is a combination of Chain and soft Nylon material. D cut Nylon Choker Collar is ideal for training dogs. Zealpets D-Cut Nylon Choker Collar is a new product by ZealPets that is made with one goal in mind: to assist you, the dog owner, to have more peace of mind and make your life easier. The new ZealPets D-Cut Nylon Choker Collar is the best training collar on the market and can be a game changer for people who are having difficulty with their dogs. For the comfort of a large dog, the Zealpets Nylon D Cut Choker Collar is ideal. Certified fully welded links are extremely strong links. Most dogs do not develop allergies when eating high-quality raw materials. These metal dog collars are flawless because they have undergone strict quality control.
 Zealpets Nylon D Cut Choker Collar is perfect for Walking with dog. Because it can hold dogs of all sizes and all breeds. Good quality of material used so that dogs hair doesn't get damage. You can take your dog to walking very comfortably. Zealpets Nylon D Cut Choker Collars can fit dogs of all sizes and breeds, making them ideal for walks with your dog. Use of high-quality materials to prevent damage to dogs' hair. You can stroll along with your dog in complete comfort. Because the collar prevents your dog from trying to escape your arms and does a fantastic job of instilling in him a sense of security and safety, you can feel at ease as you walk your dog, which is a great indication of the product's high quality. Dog Leash for Walking.
Zealpets Pet Care Products and Accessories available on Amazon